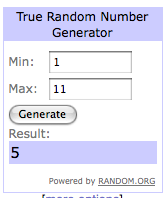 Comment #5:

Sarah E.

said...

I'm also a fan on your facebook!

Congratulations, Sarah E.! Please contact me as by the end of Tuesday to claim your prize! As a bonus you can also take advantage of 20% off anything else in my shop before I ship your clippies to you! Congrats again!
Keep your eyes open for the first Monday in August. My oldest will be turning 5 that month so I am going to let her choose her favorite style of bows to give away!