Its the first Monday in June - its also the first DAY in June. So its time for another Ellie-Jayne Giveaway! This month I am offering up to the lucky winner a pair of Double-Layer Patriotic Toddler Bows. These have been flying off the shelf in my Etsy shop for the last month, along with the Firecracker Clippie. And since next month is the 4th of July, it seemed an appropriate giveaway.

To enter all you have to do is leave a comment. Want to have two entries? Become a follower of the blog and add a second comment saying so (or if you already are a follower, make a second comment stating that) Want three entries? Sign my guestbook at the bottom of the blog and right a third comment saying that you did!

I will use random.org to choose the lucky winner from the list of comments on Friday, June 5th. Please make sure in the comments you give me a way to contact you - either through your own blog, blogger profile or valid email address.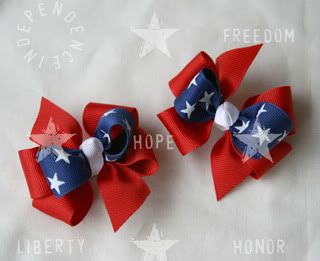 Happy Entering and Good luck!