Kevin and I got the girls these gorgeous Disney Princess gowns for Christmas this year - they got the Fab 4, Belle, Cinderella, Snow White and Sleeping Beauty. They were made by Jodi at Tinkerella Creations - she is amazing! Today I finally got around to making a "Belle-ish" hair bow to match the Belle dress. Allison has a cold so she wasn't up much for picture taking - hence the presence of Lambie. I am not terribly happy how it turned out - my first attempt at fabric roses. I might fiddle with it some more and see if I can make it better.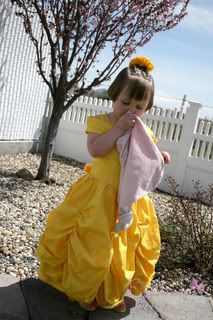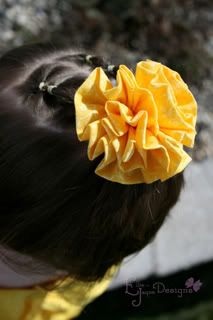 When I finished the Belle Bow, I had some of the fabric left over (I actually have a lot of this fabric now - its so pretty!) and decided to make another fabric flower bow. I used the yellow fabric and some pink with white dots fabric and made a Pink Lemonade Fabric Flower. Maddy was gracious enough to model for me. This set matches the Gymboree Happy Rainbow line - Maddy's outfit is from this line. It also works with the Lemoney Fresh line and the Sunflower Fields line - for those of you who love Gymboree.
And lastly the project I finished a while ago but finally got around to take some pictures is a new baby toy. A clutch ball! I found a
tutorial
online that was really fun. I have altered the pattern a bit from what was written and I plan to alter it a little more for the next one I make. I have some great fabrics to use with this pattern and I plan on making this a part of the infant gift sets from now on! I have found it hard to make stuff for baby boys and this is definitely something a baby boy would love.