So my sister has been bugging me for several weeks to make her a cute top - the little girls can't have all the fun. After much thought and mulling it over, I ended up desigingd a top specifically for her that I based on a top that Padma Lakshmi wore on season 5 of Top Chef.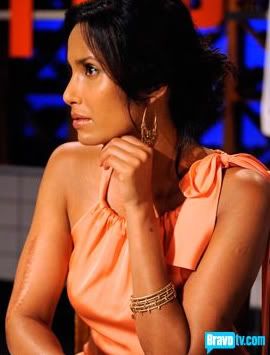 Super cute top that I thought would be incredibly flattering to my sister's figure. While I was making that one, she sent me pictures of tops that she thought would be cute so I made another one based on those pictures and somewhat from a Vogue pattern I found. I finished them up this past week and my sister came to visit this weekend so I got to take pictures of her in her new "Hot Aunt" tops. I think they turned out pretty good!
Top #1 - based on the above picture of Padma.
And the back of the top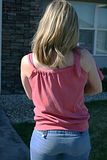 Top #2 - based on an assortment of photos and patterns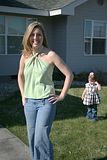 And the back of Top #2

And you can't be a Hot Aunt (or Hot Mom) without a cute kid to hold!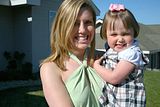 I used some fabulous interlock cotton for both tops - found it on clearance at JoAnns last summer - bought out everything they had and I haven't seen this exact fabric anywhere since then. Its super soft and super stretchy in one direction. Its been a very versatile fabric to have!